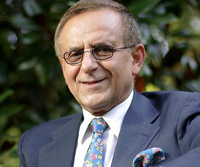 Prof. Amirahmadi is director of the Center for Middle Eastern Studies and a professor at the Edward J. Bloustein School of Planning and Public Policy. Amirahmadi is the founder and president of the American-Iranian Council, a research and policy think tank devoted to improving understanding between the peoples of Iran and the United States.
He is the author of Revolution and Economic Transition: The Iranian Experience and editor of 10 other books. His latest book is The Political Economy of Iran. National and international print and broadcast media outlets frequently interview him, including CNN and the New York Times. Amirahmadi has served as consultant to the United Nations, the Aga Khan Foundation, the World Bank and several governments, as well as private companies. He has presented at conferences around the world.
Mission
The mission of the AIC provides for a sustainable dialogue and a more comprehensive understanding of US-Iran relations. The AIC organizes and promotes the Iranian-American community and encourages its participation in the efforts for a more democratic, transparent, mutually respectful, and sustainable relationship between the two countries. The AIC also promotes the conditions for the development of Iran through increased national dialogue, charitable works, and international exchange. The AIC is to be a catalyst for positive change in the relationship between the United States and Iran through bringing each of these two great countries together by promoting truth, understanding and dialogue, especially with respect to those values held in common by both governments and peoples. Our mission is to help overcome many of the key misunderstandings, misperceptions and mischaracterizations that exist in this relationship. Our mission is to help those who believe that our two countries have a bright future, one in which the governments and peoples can learn, share and grow with one another.
Vision
It is the vision of the AIC that the United States and Iran should and will work together, as their common interests far outweigh their differences. The AIC believes that the United States and Iran will eventually come to appreciate what they have in common, what they have to offer one another, what they can gain from greater appreciation and respect for one other. All countries have committed actions that, in retrospect, are not always in their best interest or are not without ethical issue. It is as impossible for a country to be perfect as it is for a person to be so. It is possible, however, for a country to hold itself to a high standard, to try to do better, and to learn from past errors. The relationship between two countries, much like that between two people, will sometimes require the parties to acknowledge past errors or grievances and, with that appreciation, move forward. The United States and Iran not only have shared interests, but they also have an ethical obligation to work together for the betterment of both governments and their peoples.